Filter By:
Show More Brands

---

Show Fewer Brands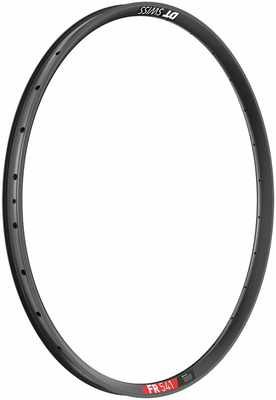 The FR 541 may not be your first rim, but it aspires to be the last. The new rim shape improves the impact resistance, enabling you to push a little harder on the trails. It also enhances the pinch flat protection for a trusty ride on rougher tracks. Build this rim with care and it will reward you with resistance and lightness for a long-lasting bond. - Aluminum welded construction, hooked tubeless design - PHR – Pro Head Reinforcement system increases the load-bearing surface of the nipples on the rim and reduces localized stresses - Provides a 17% increase in pinch flat resistance compared to the previous FR 560 rim - Disc brake only
This welded, 30mm-wide E-MTB rim is the ideal all-rounder. When you head into the unknown, the HX 531 is the perfect choice with a 30mm internal width to support meaty tires. With an ideal position in the middle of the strength to weight to width range, it works with many tire sizes and is the ideal choice for all eMTB's meant to be ridden on proper MTB terrain.
The reliable rim with an ideal price-to-performance ratio! A state-of-the-art, high-quality aluminum rim, making for the perfect upgrade on any road bike. That is what the new RR 421 rim is all about. The welded rim supports wider tires and still offers a super-lightweight wheel build-up.